Steve Debenport/Getty Images
Almost everyone probably wants to get rich at some point in their life. Some people choose to live modestly to save more; others take risks by investing in high-yielding investments to build wealth.
In this article, we'll explore the best ways to build wealth fast. Keep reading to learn more.
What is Wealth?
Everyone has a different idea of ​​what wealth is. For some, this means owning property; for others, it means having lucrative investments. From a financial perspective, the term wealth is the number of assets you own minus debts.
How to determine your wealth

Add the total market value of all your tangible and intangible assets, then subtract debts.
Building wealth may seem somewhat impossible, but it's actually quite simple. In fact, you don't need to earn six figures to turn this dream into reality. No matter how old you are, you can amass wealth as long as you are determined.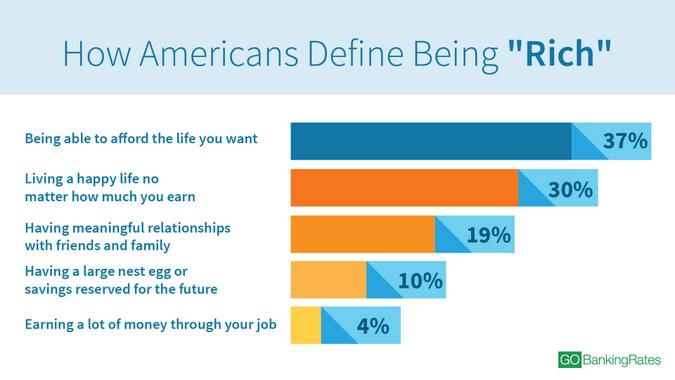 Keep in mind that building wealth is not an overnight process.
3 tips to increase wealth
Take a look at these three tips below on how to build your wealth.
1. Increase your income
Whether you're just starting out or transitioning, having multiple sources of income is the most fundamental step to building wealth. Here are some of the ways you can increase your income and build wealth quickly.
Venture into business
The richest people in the world are not employees but entrepreneurs. Entrepreneurship fulfills two aspects of wealth creation: income and high return on accumulated wealth. Therefore, if you have a business idea that can increase your income, go for it.
It doesn't have to be a huge undertaking. You can start a small business and offer the services you are good at. For example, with the emergence of the Internet, you can build a business completely online. If you are busy with other things, you can hire people to run the business for you.
Accept high-paying jobs
You can consult the United States Bureau of Labor Statistics for a detailed database of occupations. From here, you can see high-paying jobs and their subcategories that you can apply for. More than 100 professions pay an average of no less than $80,000 per year. Good examples of highly paid professionals include doctors, managers, nurses, and engineers.
However, some of these professions are very expensive. They can also take a long time to complete the required courses, and it can be even longer before they start earning a high salary. You should consider all of these factors before choosing a profession. Whatever career path you choose, make sure it doesn't leave your level of debt too high.
Execute side hustle
Even if you have a job, you don't have to rely solely on your salary. You can organize a successful side business to increase your income. You can turn your talent or hobby into monetary value in your free time.
There are many lucrative side businesses that you can perform online as long as you have access to the internet. These include:
Work as a virtual assistant
Freelance writing and editing
Writing
Tutor, coach, online consultant
Web design, app development, coding, etc.
Other secondary activities that do not require internet access include:
Part-time teacher at a local college
Part-time gym teacher
Freelance accounting, tax preparation, tutoring
Become a buyer
Part-time driver for a carpooling or delivery service
Improve your skills
There are two ways to increase your income and your investments in return. You can either reduce your expenses or increase your income. Most people focus on the first, forgetting about the second. You can increase your income by improving your skills. This could include earning a degree, MBA, or special designation, all of which can net you a promotion and a pay rise.
2. Save more
Saving money is another crucial step in building wealth. Once you have enough income to meet your basic needs, it's time to save. Remember that saving small amounts on a regular basis turns into substantial wealth over time.
Create a budget
A budget is your financial plan, with estimates of expenses compared to your income. A budget is an important tool in creating wealth. It gives you an overview of your expenses, that is, the items on which you can reduce your expenses to increase your savings.
To maintain a workable budget, it is advisable to create a new one every month. Can you imagine a sailor without a compass? That's how a person spends his money without a budget. Such a person will likely end up suffering a devastating financial crash.
One of the most popular and effective budgeting techniques is the 50/30/20 rule. This method suggests that 50% of your income goes to essentials, such as food, rent, and health care. A 30% allowance goes to non-essential activities, such as shopping and luxury pursuits. The remaining 20% ​​is the largest allocation, which should go to savings.
Create an emergency fund
Emergency fund kits prepare you for unexpected events, like losing a job. Such events can disorient your wealth building without an emergency fund. Two common results are the sale of the investment or the incurring of debt.
If you incur debt, your wealth begins to decline. In addition, you will have to pay interest on the debt. If you sell your investment, you lose the principal and interest you would otherwise earn. So, to avoid such scenarios, create an emergency fund as emergency money to settle unexpected expenses.
Pay off the debt

Debt — whether it's credit card debt, mortgage debt, student loan debt, or any other type — can drag you down every time you try to do fortune. You can start by paying off high-interest debt to save money and start building wealth.
Live below your means
Overspending can have a huge impact on your ability to build wealth. Cut unnecessary expenses like dining out, shopping for designer clothes, and regular vacations. Although being frugal can be boring and unsatisfying, you will accumulate wealth over time and find it rewarding.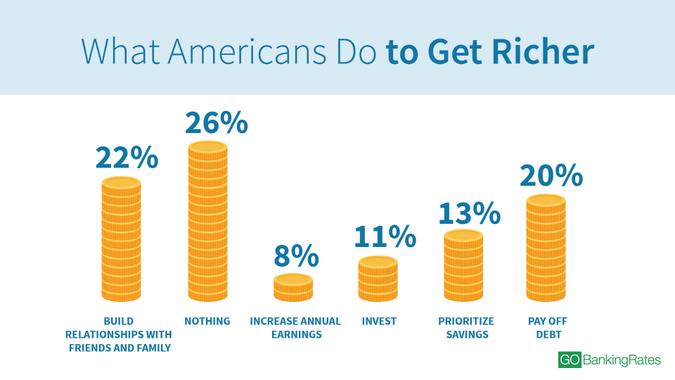 3. Invest
Once you've set a monthly savings goal, it's time to invest. When you invest your money, it gives you more money in return. Investing your earnings in the stock market and in real estate and retirement accounts like a 401(k) or a Roth IRA, can build you massive wealth over time.
stock Exchange
Buying stock in a company is one of the best and easiest ways to build wealth. Thanks to the shares, you become a shareholder, owner of part of the company. Buying stocks through exchange-traded funds is a transparent and risk-free form of investing.
ETFs are less risky passive funds. They help investors escape high fees and taxes. They also allow you to diversify your actions. This means that you can focus your investment on specific ETFs, such as emerging markets, developed markets or US markets.
Even though stocks are much riskier than other assets, they have the best return on investment. With a well-informed diversification strategy, you can reduce risk and maximize returns.
Real estate
Investing in real estate investment trusts gives you the opportunity to profit from the real estate industry without direct involvement. REITs are basically shares of real estate companies involved in the buying and selling of properties. Building societies also fall into this category.
Each time the value of the company increases, you also earn. REITs boast of very high dividends, which you can reinvest for more returns.
401(k)
A 401(k) is a defined contribution retirement account that employers offer to their employees. You can dedicate a percentage of your pre-tax pay to this account by signing up for automatic payroll deductions. Your employer can also match your contributions.
Investment earnings in a traditional 401(k) grow tax-deferred until withdrawn. If your employer offers it to you, you should take advantage of it. Although it is not a quick method on its own, you will be surprised how quickly your wealth can increase if you combine it with other strategies.
Roth IRA
A Roth IRA is an individual retirement account that allows tax-free withdrawals, as long as you meet certain conditions. Investing in a Roth IRA is a perfect option if your employer doesn't offer a 401(k). The 2021 annual contribution limit is $6,000 for those under age 50, while those age 50 and older can contribute up to $7,000. The best thing about a Roth IRA is that you fund after-tax dollars, unlike a traditional IRA, where you fund pre-tax dollars.
Final grip
Creating wealth is not a rocket science process. With dedication and discipline, you can grow your wealth quickly. Before embarking on this adventure, it is important to equip yourself with a financial education. This alone should catapult you through the other stages seamlessly and eventually build wealth.
Many people overlook retirement accounts when it comes to building wealth. Not only will you save for retirement, but you'll also grow your wealth over time.
More from GOBankingRates
Our in-house research team and on-site financial experts work together to create accurate, unbiased and up-to-date content. We check every stat, quote and fact using trusted primary resources to ensure that the information we provide is correct. You can read more about GOBankingRates processes and standards in our Editorial Policy.
.